About ChiselChin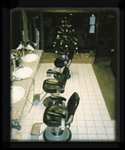 Per Uomo Hair Salon began trading in 1991. Previous to this we had a hair salon in Italy on the Adriatic coast for six years. We decided to sell up and return to the U.K. but we had no idea of what we were going to do when we arrived. On contacting a friend, he said he had a shop with living accommodation in Lewisham. Within hours we had shaken hands and became the new owners. As he had it as a saddle shop, it had to be cleared and within four days we moved in. Six days later we opened for business as a Barbers shop and here we are today 12 years on.
Two Years ago we refurbished the salon and felt it would be nice to bring a touch of that Italian authenticity to the premises, so we imported the materials from Italy.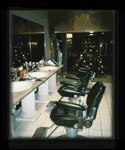 We are always looking to take the business forward and we are now agents for Proraso, a unique and original product from Italy. This product has been used all over Italy for over 50 years. For the past 12 years we have also been agents for Wella For Men, a product we totally believe in as it is kind to the hair and scalp. This product is being given a new look in early 2003 so keep watching this site for the launch.
We like to keep a breast of all the new styles that appear, so we attend regular refresher courses to maintain our level of professionalism. We have World Hair Federation training and Toni & Guy Diplomas. We pride ourselves in offering authentic Italian Shave using the latest products from Proraso to give a smooth, clean shave.